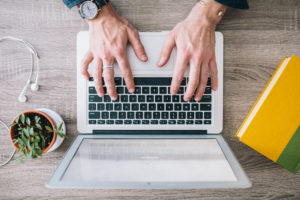 It's 2016; I've talked enough about how I'm going to boost my book sales income this year and the time has come to see if I can make this a reality. If I don't, I'm going to get a proper full-timer in 2017. So, a lot riding on this; need to jump right in. Thought I would start off with a bang. So, I set myself on a mission to execute one marketing strategy per day for 30 days. Sure, I dabble, research, listen to insightful podcasts, but how much action do I actually take in my marketing efforts? It's a new year, I've moved house, and it's time to start some new routines that finally shift my self-publishing efforts into the next gear. I know I'm not alone here in wishing I could do more and feeling like all my busyness should be accomplishing something. But it's time to face facts: what am I actually accomplishing? Completing? Putting out there? Not as much as I could with a quota plan built on sheer numbers. I made it simple:  Action One New Marketing Strategy Per Day for 30 Days. In writing it down and sharing it with my peers I hope to both make myself accountable and inspire you to get moving, and share some concrete results on my efforts. Along the way, maybe we'll all see what it takes to really get this self-publishing thing into income-generating territory. So, I'll be blogging here throughout the month to report on my daily marketing actionables. Here's to starting the year off growing my publishing income . . .
Jan 2, 12:30 pm
Today I hatched and committed to this plan, and though I'm already feeling my own hesitation, I'm standing firm: just because I'm on the last day of my holiday is no excuse for someone talking this big. So here goes: as every day this month I'm going to action one marketing strategy, I had to start somewhere. I have my Kindle with me, so last night I finished reading a marketing book that's been sitting in my library for months and one thing that stuck out to me was this: It's commonly cited in varying, but always staggering statistics that websites with blogs bring in more traffic than those that don't. So why have I been so lax with mine?
My web designer took pity on me last year and upgraded my site so its nearly fully self updateable and the blog is easy to use, and looks great. So there's no excuse. I've had a half-finished entry sitting on my computer since mid October, so I decided I would complete it tonight for my first actionable.
I was on a roll, finished the draft, but decided it needed sleeping on before a read-through and posting—which meant my very first shot at actioning one marketing effort each day was inauspicious. Still, as I went to sleep reading my Kindle, I appeased myself that I'd done more than I would have without the vow, and this overarching blog about the vow was another marketing initiative, wasn't it? But despite this logic and all the excuses about kids and packing and car trips, the incomplete didn't lay comfortably with me because here I was in the same place—lots of ideas but no completed initiatives that could increase sales now. I'd do TWO marketing projects tomorrow.
Sunday, Jan 3, 8 am
Long car ride, kids in back, lots of "I'm hungry" and "I want another book," and rummaging around for tossed dummies and milk cups. Still, I finish that blog post. Check! Only problem? As soon as I post it, I realize I have to promote it, and it's been so long (Sept was my last post), that I need to find all the places I did that, not only that but I have a new computer (not complaining, it rocks), which means I need to re-enter all my usernames and passwords, and who knows where the heck I've got any of that . . . Still, no excuses! Here goes…
The first site I revisit is viralcontentbuzz; I had experienced some good shares with that when I first used it back in September, but this time I'm disappointed to find that the only stories I can share (which is the way you get credits required to post your stories for others to share) are stories promoting the site viralcontentbuzz itself. I'm turned off by that. Where are all the cool stories by peers that I saw the first time around? Do I upgrade to a paid membership? Is it worth it? I remembered the guys from The Sell More Books Show always saying people who try something and then say, "It's too hard," and give up when they hit a glitch will never get anywhere. Here I was—glitched and wanting to give up and take a nice nap . . . but I hit the Google instead, and came up with this resource: http://www.bloggertipstricks.com/drive-referral-traffic-to-blog.html. Wasn't too much takeaway, but I did hit these two suggestions: post links on relevant Facebook Groups and BlogEngage and BizSugar; BizSugar was free, so I gave that one a crack, though feel skeptical about the setup of these content sharing sites. Results from this to come . . .
I also made a note to hit these on an upcoming day: Scoop.it and Storify. Exhausted and blurry now, so doing that nap thing…
Monday, Jan 4
Well, that didn't happen, but had a good night's sleep, got back on the road, loaded up the kids with fruit and cheese and here I am. Realized last night that mostly, my tasks took so much time yesterday because I didn't have passwords, didn't have great internet access; working on these will certainly help my efficiency. With my actionable attitude, I download one of those password apps and started sticking my passwords in there. And though I'd really like to do something new for today's action, I feel I should expand on the reach of yesterday's blog post while it's new. So, here I go once more. I read up on Scoop.it but it doesn't seem like the right fit for me. Though I can't find what I need there—a platform for sharing my articles with interested parties—I do send an email query to see if this is possible. Still, no action from my efforts. Now I've wasted an hour. Grrr. I guess I'll have to try Facebook groups next.
Aha! Something I can actually do! Create a call to action button! Done. So easy. Finally, a break, so I'm chuffed I go on to do something else: Post a notice for beta-readers on my Diary of a Working Girl page. I have a backlist chick lit title, THE VELVET ROPE DIARIES, coming out soon, under a new title, ON FIRE, so I will need to get reviews for that. Two marketing actions complete! I even have my FB group registration approved in moments, and so I posted a link to yesterday's blog.
Now, I get that some actionable tactics are going to take a while—reading, research, prep work. But for this month, while I can have these types of projects ongoing, they aren't going to count for my one a day . . . until they're complete.
Tuesday, 5:18 am
Home at last. Thing is, it's a new home for us and nothing we have is settled in its place. Had an energy burst yesterday arvo when we got in, so did a whole bunch of organizing. But for now, might have to live in my organized kitchen, as everything else is still partially disastrous. Glad I'm up early, as this will likely be the only time I have to get anything done until the little one's asleep. This one should be pretty easy—it's about price changing. I've heard recently, from a bunch of sources, but most recently, Joanna Penn's podcast, that prices that end in .99 sell better; I also heard that there are different price points that work best in the UK, India, Australia, and the US, so I wanted to make some adjustments on my KDP listings there. Thing is, I don't remember which prices to use, so let's see if I can find them (note here about better organization of my notes! Would make this task so much quicker if I knew right where to find the information). Started with PRINCESS OF PARK AVENUE to test it out. To stay at the 70% royalty rate, I went to £1.99 in UK from £3.33 (which was the automatic conversion price), and changed the US price from $5.03 to $4.99; in India to 237INR from 330INR; and in AUS $6.89 to $6.99. There's my one action. Done. Bub's up; back later?
STILL Tues 7:22 p.m.
Oy. Work is the last thing I feel like doing; long day at kids' new school, two-hour drive in new city, big shop, dinners, drop-in guests, now dinner on with the cricket and yet, I research and join a free image site, deathtostockphoto, because I learned in my research that images score blogs more traffic.
Wed 2 a.m.
Yes, that's a.m. I couldn't sleep and so decided to knock some items off the list. Finished the proofing of the first bit of this 30-day blog post and found a decent free image to accompany it. Actionable? Done!