Update your facebook page look, add a new offer or giveaway. It's easy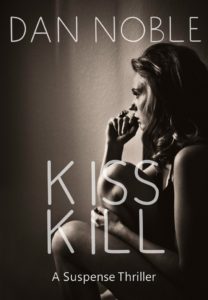 to make your page attractive with Canva, which even I figured out in a matter of minutes. Check out my updated page background, making the most of my free book giveaway.
Invite page likes from people who've liked your facebook ads.I recently heard this idea from Adam Croft on Mark Dawson's The Self Publishing Formula podcast. In Ads Manager, you click on "See Post", then scroll down to the list of people who've liked the ad, click on the link, then choose "invite" for each person.
Put out a new book (even if it's short!): According to the self-publishing bigwigs like the SPP guys and Joanna Penn, the more properties you have to sell, the more money you're going to make. It takes a long time to get through the writing, editing, designing, and marketing for a book, true. But, I find, if you stick to a daily writing schedule (I do this Mon-Fri), you'll get through it. In August, I'm launching my first psychological thriller, a novella, called KISS KILL (see the cover in progress above), under the pseudonym Dan Noble. Marketing plan to come…But I'll start by saying I chose to do something in this genre because my two novels-in-progress are of the psychological book-lovers' mystery variety, and that sounds very difficult to market! So, I'm going general with the categories, specific with giving a taste of what's to come with this novella.